Options
Mark Topic as New

Mark Topic as Read

Float this Topic for Current User

Bookmark

Subscribe

Mute
Mark as New

Bookmark

Subscribe

Mute

Email to a Friend
Decided to try giving an arbor a crack in a bid to build a more enjoyable outdoor entertainment area.
At first i was going to get a metal gazebo built, but wife convinced me that an arbor would be better..
Started with a bunch of green cut jarrah from Austim, and then proceeded to clean it all up using mostly Makita tooling purchased at my local Ellenbrook Bunnings. Once wood was preped, Aquadeck (jarrah) decking oil was applied before some help from my friendly neighbours assisted me in lifting the beams into place.
This is easily the biggest home handyman project I've ever attempted and am stoked at the results. The wires were added today and paving cleaned up as well. Looks brilliant and the jarrah decking oil has grown on me after early reservations. Just need to convince the with to build a deck to really set this area alive!!
All tools and finishes were purchased from my local Ellenbrook store, which I'm glad to say had everything I needed straight away enabling me to complete this project within 4 days. Just need the grapes to grow now!
Cheers,
Shay
The green timber from Austim (jarrah).
Planed and sanded cuts.
Aquadeck jarrah decking oil applied (after Cabot's timber prep) and slot notches jigsawed and chiselled out.
Main support posts cemented in.
Horizontal supports beams erected, with house side beams dyna-bolted into brickwork (tip - pre-drill and measure prior to inserting so you don't have to physically hold heavy jarrah beams in place whilst drilling pilot holes etc..).
Last of the cross-beams going up with help from neighbours (thanks boys!)
Installed some festoon lights as well to give it an special effect at night
95% complete with just the wires to add and a final tidy up with the paving.
Will add final photos once compete.

Mark as New

Bookmark

Subscribe

Mute

Email to a Friend
@Farside @Jason The main support vertical beams are square 130x130mm, cemented in approx 800mm below the pavers, with approx 2400mm above ground. The horizontal beams bolted into the side of the house and the rafters are the same size - 200mm x 50mm. The rafters are 3200mm long, the horizontal beams roughly 3500mm long each (there's 2). All the timber was pre-cut when it was ordered through Austim in Wangara.

Mark as New

Bookmark

Subscribe

Mute

Email to a Friend
thanks Shay. I will be bolting my posts to an existing slab. My project will be similar size but not in jarrah. Ledger board will be 3360mm long, rafters about 3600mm and beams around 4200 but have been undecided on timber widths and height.

Why join the Bunnings Workshop community?
Workshop is a friendly place to learn, get ideas and find inspiration for your home improvement projects
You might also like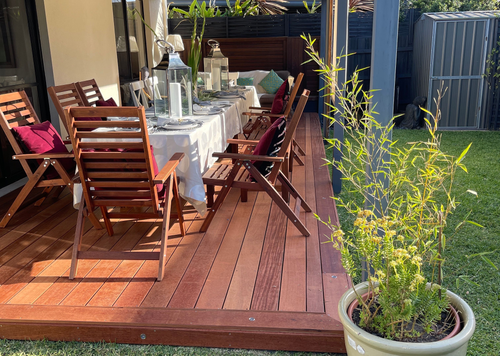 JaneK
Moderator


Jason
Community Manager