Mark as New

Mark as Read

Bookmark

Subscribe

Email to a Friend
Entertaining kids is never easy, but most of us would prefer if our youngsters were busy playing outside or tackling a craft project rather than being glued to a screen.
Fortunately, Bunnings Workshop community members have provided plenty of inspiration for great projects to build that can keep children happy and entertained for countless hours. Better still, the projects might also help develop a life-long love of D.I.Y.
Here's the top 10 most popular kids projects on Workshop by pageviews:
1. D.I.Y. cubby house using recycled pallet timber by @Yorky88
Marty constructed the cubby using pallet wood without plans
Pallet maestro Marty decided to build this fantastic cubby from pallet wood "on a whim" one weekend. He built it without plans and like another fantastic D.I.Y. cubby house creation from woodalwaysworks shared in the same discussion, it is an "open project" changing over time as the kids grow older.
2. Cubby house with picket fence and planter box by @ProjectPete
You can just imagine how excited Pete's kids must have been when they received this gorgeous bespoke cubby house for Christmas. It features tongue-and-groove cladding, a custom picket fence and even a planter box.
3. Two-storey pallet timber cubby house by @Tara86
Inspired by Marty's project as well as other projects by Bunnings Workshop community members, Tara created her own unique two-storey creation. Materials included timber posts from Bunnings, recycled pallet timber, Merbau decking boards, telescope, steering wheel and slide.
A sandpit is a great addition to a cubby
4. D.I.Y. kids sandpit and chalkboard by @LePallet
Adding to an existing cubby, this popular project added a rectangular sandpit as well as a chalkboard for artistic creations. We love the use of Pine posts painted colourfully and arranged creatively. Creator Rylie has generously shared advice for how to replicate the projects.
5. Kids mud kitchen by @Noah
Noah built this beautiful mud kitchen as a present for his cousin using Pine and fence palings. He added a benchtop, sink, hooks, chalkboard menu and name tag to make the play area even more fun and personalised.
6. Ute bookshelf by @prettyliving
Jess built this creative ute-shaped bookshelf with storage behind the door and headlights that can be used as a night light.
7. Kids cubby house with sandpit and slide by @weekenddiyer
By adding fence pickets, a slide, bell, chalkboard and sandpit, Workshop member weekenddiyer turned a flatpack cubby into an impressive playhouse.
8. Wooden Mack truck model toy by @Wayne
Passionate woodworker Wayne crafted this wonderful wooden toy entirely from scratch, carefully and patiently following plans he purchased online.
9. LEGO character display frame by @Kim
This clever and attractive display frame for LEGO mini figures is a simple weekend project you could do with your kids, or alternatively it would make for an amazing present.
10. Kids play table with chalkboard top by @Mick0s
Mick build this brilliant kids play table with a chalkboard top and tub storage to organise craft materials and toys.
How to build a cubby house
Our resident Bunnings D.I.Y. expert Mitchell has put together a step-by-step guide to building a terrific cubby using recycled timber pallets. It has an additional shop and can be built over a few weekends for minimal cost. Follow the guide How to build a pallet cubby.
More fantastic kids project ideas
Workshop community members have shared many other fun and creative kids project ideas. Check out Clever cubby house designs and these great projects:
Sandpit with fold-out seats
Market stall made from recycled timber
Article updated: October 2021
You must be a registered Workshop community member to comment. Please join Workshop or sign in to join in the discussion.
3 Replies
Why join the Bunnings Workshop community?
Workshop is a friendly place to learn, get ideas and find inspiration for your home improvement projects
You might also like


MitchellMc
Bunnings Team Member

Nham
Experienced Contributor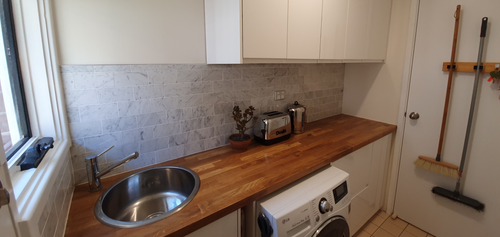 EricL
Bunnings Team Member