Mark as New

Mark as Read

Bookmark

Subscribe

Email to a Friend
Renovating a tired, outdated laundry can provide much needed storage and create a stylish space that you enjoy using.
Best of all, a laundry makeover can be quick and relatively inexpensive, as many of the following projects from our clever and creative community members illustrate.
Here are the Top 10 most popular laundry renos on Workshop by pageviews:
1. Budget Bunnings laundry renovation by @prettyliving
Completed in just a day for $500
This very popular project with a budget-friendly pricetag was completed in just a day, transforming a basic laundry with a standard trough and no storage. The renovation included a new sink, cupboards, tiles and benchtop.
2. Laundry transformation by @ProjectPete
This dramatic renovation included removal of the old laundry tub, a new splashback, lovely large timber benchtop using Tasmanian Oak project panels and overhead cabinets. The finished result is both functional and attractive.
3. Space-saving drying and laundry storage by @Nkbarfield
For less than $250, Workshop member Nkbarfield added industrial-look hanging clothes rails and fantastic floating cube storage to their laundry. You can get step-by-step instructions on how to build your own hanging rail from the Bunnings website.
4. Compact laundry in guest bathroom by @Ajmod
This laundry connects to a guest toilet so needed to double as a guest bathroom. Hiding the washing machine inside the cabinetry ensured a clean look.
5. Small laundry renovation with hanging clothes rail by @ordinary-home
With a small, awkward space, creative solutions were needed for this laundry renovation such as hanging rail and a large benchtop for folding clothes. The attractive new design passed the ultimate test – a baby in cloth nappies.
6. Budget laundry makeover by @Gillgirl
First ever renovation project
Workshop community member Gillgirl has lived in her house for over 25 years and took advantage of the COVID-19 lockdown period to tackle her first-ever renovation project. The professional end result should give inspiration and confidence to all first-time renovators.
7. Laundry renovation with extra storage by @prettyliving
Jess kept the tiles and cabinets simple in this laundry revamp to create a feature of the lovely Acacia benchtop.
8. Laundry renovation for more bench space by @dinaandjake
Dina and Jake tackled this laundry project to make room for a dryer and create more bench space for a growing family. They used a Merbau panel cut to size for the benchtop and shelves, added Flatpax cabinetry, and hired a tile cutter from Bunnings to install a tiled splashback.
Overhead cabinetry created more storage in this European-style laundry
9. Laundry makeover with concealed washing machine by @Fishvince
Workshop member Fishvince transformed this laundry from a simple old-style tub into a functional area with the washing machine hidden behind Kaboodle cabinets and loads of bench and storage space.
10. Budget laundry makeover by @Chaks_DIY
Rufaro updated the look of a European-style laundry and created more storage space with new cabinetry, overhead shelves and a laminate marble-look benchtop.
How to plan a laundry renovation
With research and planning, you can turn your laundry into an efficient and even welcoming space. Check out the guide How to plan a laundry renovation by Bunnings Workshop member Adam Woodhams
More ideas for your laundry
Check out what the @MakeItYours team achieved with their laundry and home storage makeover using a very small budget. And visit Featured Projects for more laundry renovation inspiration, including:
If you need further assistance with your laundry project, please don't hesitate to ask the Workshop community. We're here to help.
Last updated: October 2021
You must be a registered Workshop community member to comment. Please join Workshop or sign in to join in the discussion.
2 Replies
Why join the Bunnings Workshop community?
Workshop is a friendly place to learn, get ideas and find inspiration for your home improvement projects
You might also like


MitchellMc
Bunnings Team Member

Nham
Experienced Contributor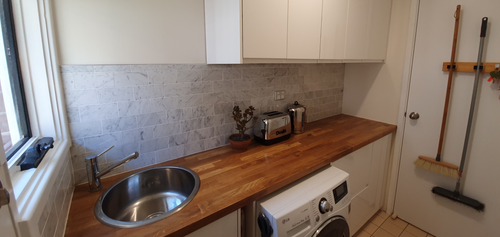 EricL
Bunnings Team Member