Mark as New

Mark as Read

Bookmark

Subscribe

Email to a Friend
A raised garden bed can help improve the quality and quantity of home-grown fruit and vegetables.
It can be easier to keep weeds at bay, ensure optimal growing conditions, and water your plants. A raised bed can also look terrific, yet be surprisingly simple to make.
We hope you are inspired by what clever and creative Bunnings Workshop community members have built. Please let us know if you need a hand building your own. We have many members happy to share their experience and knowledge.
Here's our top 10 most popular raised garden beds on Workshop by pageviews:
Raised garden bed using Cypress and corrugated iron
1. Raised garden bed using corrugated iron by @moshiach77
Utilising Cypress timber, hardwood sleepers, recycled pallet timber and corrugated iron, this fantastic-looking raised bed has inspired many community members to build their own.
2. Raised garden beds using fence palings by @Poppop
Made as a Christmas present and now residing on either side of a front door, these fantastic boxes are made from treated Pine fence palings coated with linseed oil.
3. Garden bed front fence by @timjeffries
This brilliant project not only provides Tim the security of knowing his kids can't easily run onto the road, but also provides space to grow food and build connections with neighbours. "I think they're functional, beautiful and build a bridge between our house and the street," says Tim.
4. Raised vegetable garden bed by @bruceprince
Timber sleepers are commonly used for raised garden beds
These large and sturdy raised beds constructed with timber sleepers have inspired Workshop members and visitors alike. Bunnings has full instructions for building similar garden beds.
5. Tall man raised garden bed for vegetables by @mdstorrs
Workshop member mdstorrs had never worked with large pieces of timber before, but these striking "tall man" boxes have won plenty of admirers.
6. Hugelkultur raised garden beds by @TheSaltyreefer
Built using Microshade Sleepers and incorporating shadecloth and automatic watering, these fantastic beds were filled using the Hugelkultur layering principle.
7. Pallet timber raised garden bed by @lcantem
Workshop member Lester wasn't sure how to convert pallets into a planter box, but with some helpful advice he soon created a wonderful planter box lined with recycled laserlite sheets.
Tall man raised garden bed
8. Merbau raised garden bed by @Chaks_DIY
Rufaro built this stylish garden bed using Pine sleepers and cladded with Merbau decking boards. He also built a matching bench seat with in-built planter box.
9. Budget-friendly raised garden bed by @Adam_W
Horticulturalist and Bunnings Workshop member Adam is a fan of raised beds for growing vegetables as it improves controllability of conditions and makes the bed more accessible. He shared step-by-step instructions for building this simple and budget-friendly garden bed.
10. Hugelkultur raised garden bed using Colorbond fencing by @rattle
Hugelkultur beds are built from the ground up with items like logs, sticks and branches to fill the bottom before soil is added. Workshop member rattle built an affordable raised garden bed with leftover housing materials, scrap timber and wood debris to save on soil.
More inspiration for your garden
Check out these inspiring project collections for more ideas for your garden:
Step-by-step advice for your raised garden bed project
Adam's design includes an optional seat to help you relax.
Don't miss Adam_W's comprehensive step-by-step guide to building a raised garden bed. You can adjust the design in size and height to suit your needs. It even includes an optional seat for when you want to take a break and enjoy the garden.
For beginners, Adam has also shared a step-by-step guide to building a really easy and simple raised bed, while MitchellMc shared how to build a raised garden bed using pallets.
Once you have built your new bed, check out How to fill a raised garden bed by horticulturalist and Bunnings Workshop member Noelle.
Need more advice? Feel free to join in the discussion and share your project with the Bunnings Workshop community today. We're here to help.
Last updated: October 2021
You must be a registered Workshop community member to comment. Please join Workshop or sign in to join in the discussion.
4 Replies
Why join the Bunnings Workshop community?
Workshop is a friendly place to learn, get ideas and find inspiration for your home improvement projects
You might also like


MitchellMc
Bunnings Team Member

Nham
Experienced Contributor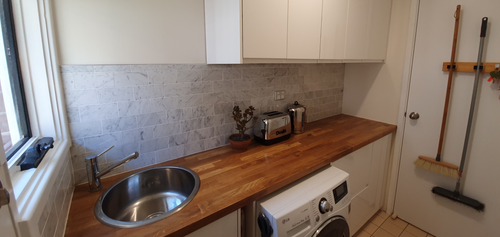 EricL
Bunnings Team Member